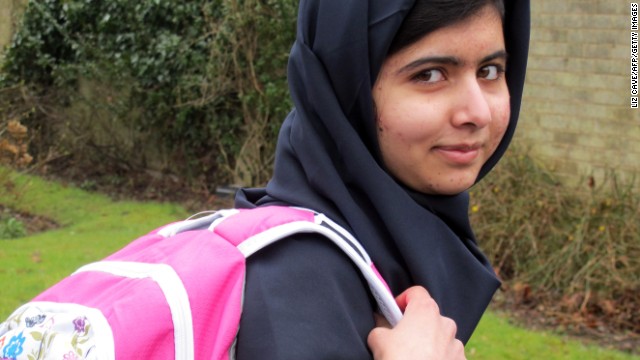 Malala Yousafzai returns to school for the first time at Edgbaston High School for Girls in Birmingham, England, on March 19. The 15-year-old said she had "achieved her dream."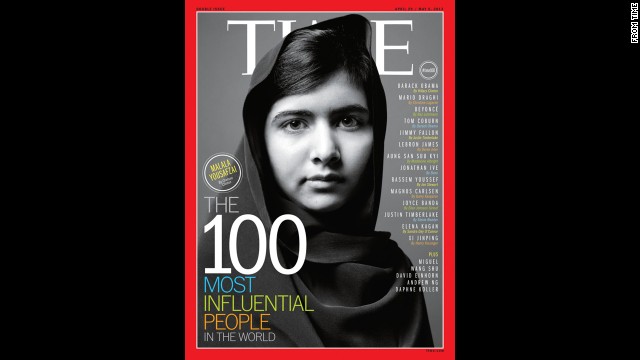 Malala was one of seven people featured on the cover of Time's 100 most influential people edition of the magazine in April.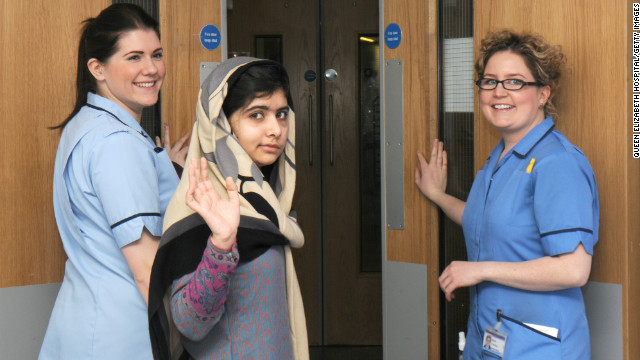 The teen was discharged from Queen Elizabeth Hospital in Birmingham, England, in February.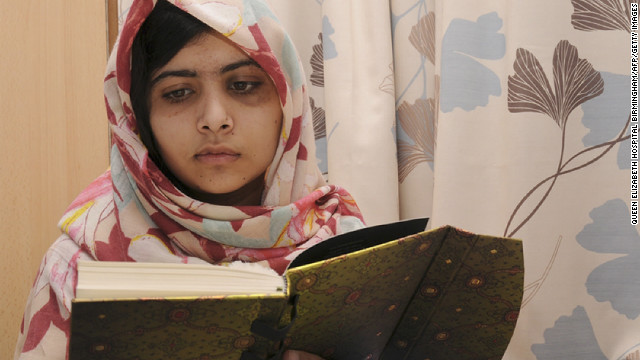 Malala Yousufzai, 15, reads a book on November 7 at the hospital.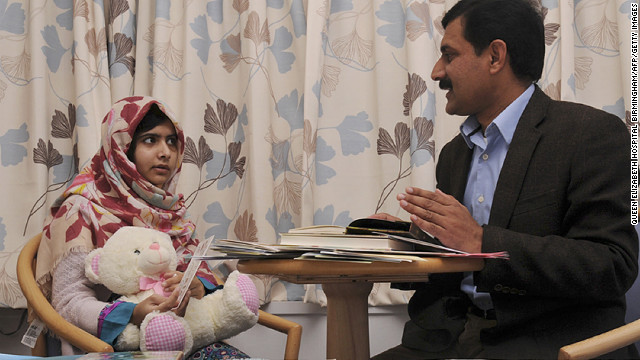 Malala talks with her father, Ziauddin. She was attacked for advocating for girls' education in Pakistan.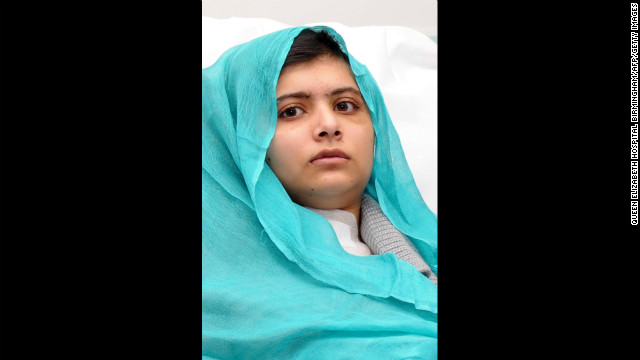 Malala sits up in bed on October 25 after surgery for a gunshot wound to the head.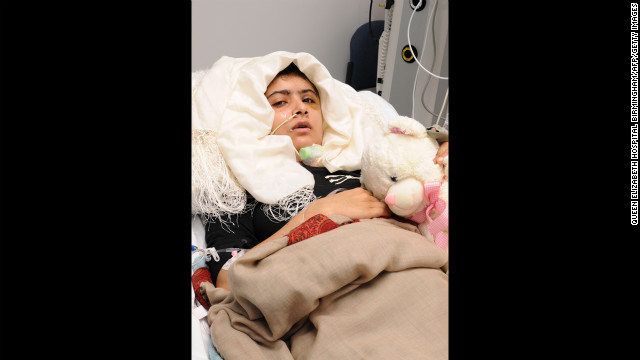 Malala recovers at Queen Elizabeth Hospital on October 19 after being treated.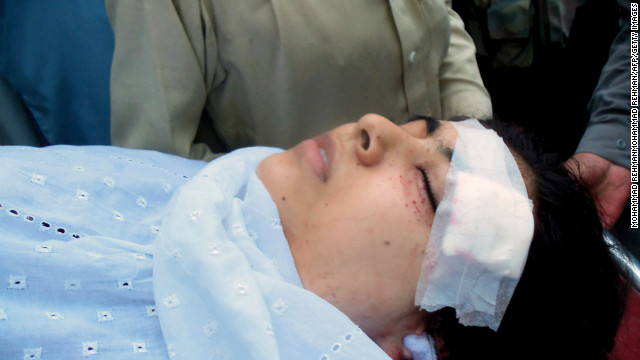 Pakistani hospital workers carry Malala on a stretcher on October 9 after she was shot in the head by the Taliban in Mingora.
Malala Yousafzai, 15, has become a global symbol for girls' education worldwide
She was shot in October by the Pakistan Taliban, which she defied by going to school
But instead of silencing Malala, the shooting has only served to strengthen her voice
She is now attending school in the UK; in July, she will speak at the United Nations
CNN Films' "Girl Rising" tells the stories of extraordinary girls from across the globe and the power of education to change the world.
(CNN) -- Six months ago, Malala Yousafzai was lying in a hospital bed, recovering from a Taliban attack in which she was shot point-blank in the head and neck.
The shooting was meant to silence, once and for all, the outspoken Pakistani teenager who had dared to defy the Taliban's ban against girls in school.
But it backfired: Instead of silencing the 15-year-old, the attack only made her voice more powerful.
Malala's story has raised global awareness of girls' education, a cause she has championed for years. And now that she's out of the hospital and back in school, she is determined to keep fighting for equality. She will be speaking at the United Nations this summer, and her memoir is set to be published later this year.
"God has given me this new life," she said in February, her first public statement since the shooting. "I want to serve the people. I want every girl, every child, to be educated."
Worldwide, there are 66 million girls out of school, according to UNESCO -- many more than boys, who don't have to face the same discrimination and obstacles that girls do in some countries.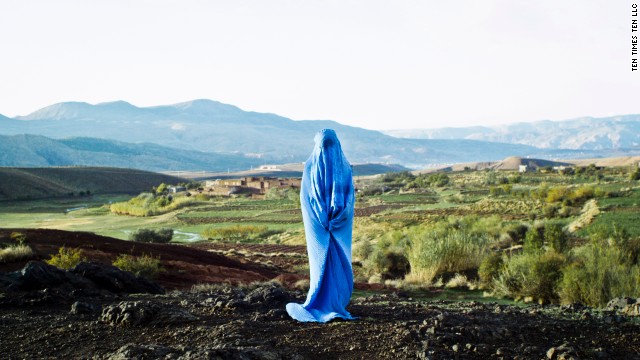 To be born a girl in Afghanistan is often to be ushered into a life of servitude, where girls have very little worth and very dim futures. Amina is forced to marry at 12, to bear a child though still a child herself -- while her own brother is given her dowry money to buy a used car. But Amina, whose name was changed and story portrayed by an actress out of concern for her safety, has had enough, and she is fighting back. CNN Films' "Girl Rising" tells the stories of Amina and other girls from around the world and how the power of education can change the world. Learn more about the girls' inspiring stories. (From 10x10)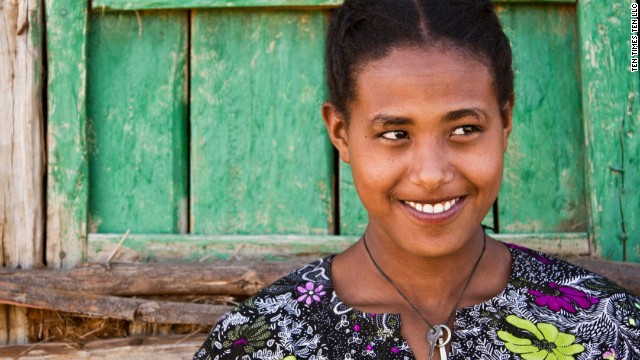 "What if a girl's life could be more?" When Azmera turned 13, it was time for the Ethiopian girl to be given to a stranger in marriage, like her mother and grandmother before her. But Azmera refused. Azmera is fearful, but she is not alone. She has a champion beside her: an older brother who would give up anything for his sister to be able to stay in school. Together, brother and sister dare to reject her fate.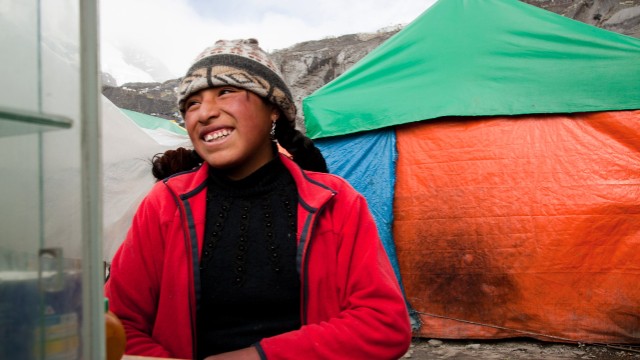 "Poetry is how I turn ugliness into art." La Rinconada, Peru, is a bleak corner of the world that regularly turns out two things: gold from deep within its mountain, which is immediately sent far away; and despair, which remains. Senna's is the poorest of the poor mining families clinging to that mountain. Every day is a struggle. Yet, somehow, she was given two magnificent gifts: a father who named her for a warrior princess and insisted that she goes to school, and a talent with words. And when Senna discovered poetry, everything changed.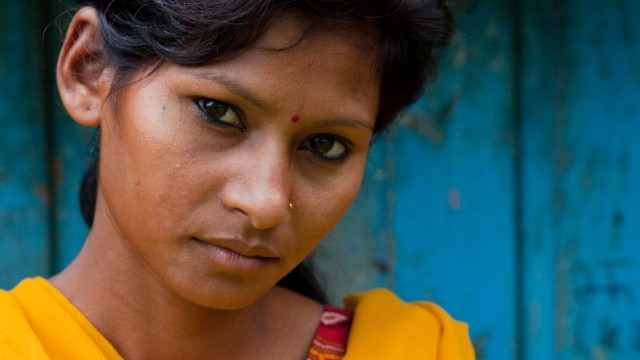 "Change is like a song you can't hold back." Suma's brothers are sent to school, but her parents have no money for a daughter's education. Given into bonded servitude at age 6, Suma labors in the house of a master from before dawn until late at night. For years, the Nepali girl suffers in silence, until music gives her a voice. A stroke of luck and kindness gives Suma a chance to go to school -- and a crusader is born.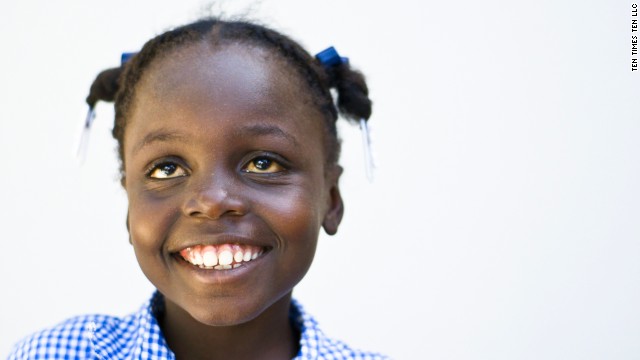 "I will come back every day until I can stay." Wadley is 7 years old when the world comes crashing down around her. When Haiti's catastrophic earthquake destroys lives, homes and families, Wadley's happy life with her mother, filled with friends and school, becomes a struggle to survive in a teeming tent city, devastation and grief all around. But Wadley believes she is meant to do something special with her life -- and that the way to begin is by getting back to school. What happens when this irrepressible spirit confronts a system that tells her she is unworthy of an education is an inspiration to the world.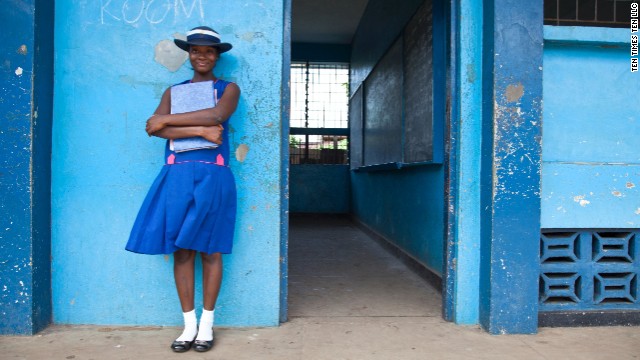 "Now there's nothing to stop me. Nothing in the world. Nothing in the universe." Mariama describes herself as a typical teenager, which in itself is remarkable. Her poverty-stricken country, Sierra Leone, is still recovering from a brutal decade of civil war. But Mariama isn't looking back; she is the voice of the future. She is the first in her family to go to school and already has her own radio show and dreams of being a famous scientist and a television star.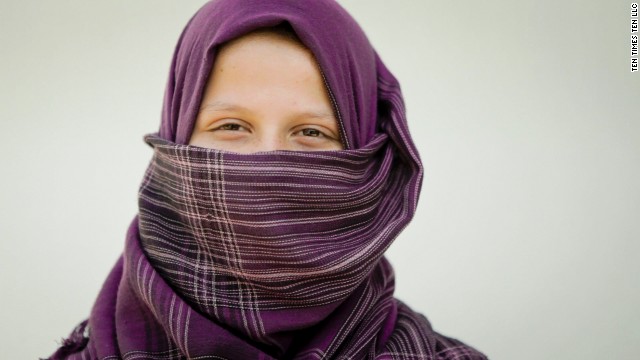 "He was strong, but I was stronger." An Egyptian girl of 12 whose family can't afford to send her to school has very few options. She can become a street kid; she can become a bride; she can become a target. Yasmin -- whose name was changed and story portrayed by an actress out of concern for her safety -- is lured into the trap of a sexual predator. But what she doesn't become is a victim. Yasmin becomes a superhero.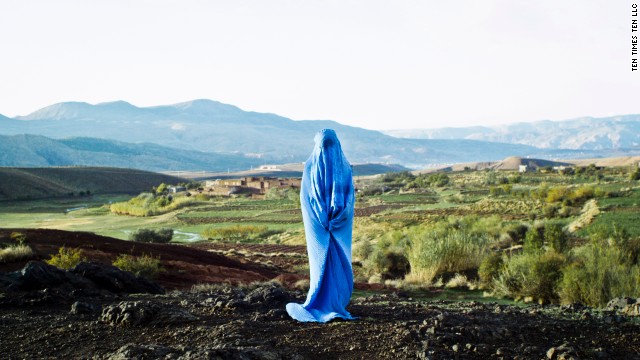 Girl Rising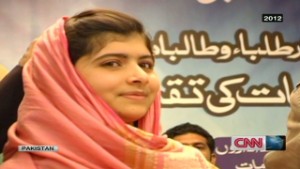 Post-shooting, Malala starts school fund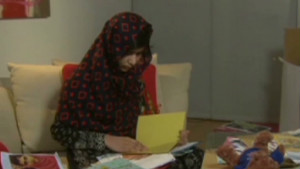 Malala's story inspires film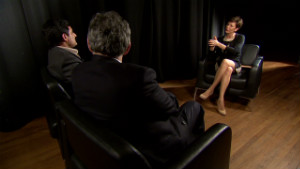 Father: Malala 'daughter of the world'
After hearing of Malala's shooting, however, more people have become aware of the disparity and joined her fight. Three million people across the world signed the "I am Malala" petition to demand universal girls' education. World leaders and celebrities such as Madonna and Angelina Jolie have voiced their support and helped raise money for the cause. And in Pakistan, there have been rallies and calls for change.
"It seems that Malala's courage has awoken Pakistan's silent majority who are no longer prepared to tolerate the threats and intimidations of the Pakistan Taliban," said former British Prime Minister Gordon Brown, a U.N. special envoy for global education.
Malala's crusade started years before the shooting, when she started writing a blog for the BBC about life in Pakistan's conservative Swat Valley. Her father, Ziauddin, continued to operated a school there despite a Taliban edict that girls in the region are banned from getting an education.
In her blog, Malala talked openly about the challenges and fears and threats her family faced. At first, she wrote anonymously, but she eventually became a public figure, giving on-camera interviews with CNN and other news outlets.
"I have the right of education," she said in a 2011 interview with CNN. "I have the right to play. I have the right to sing. I have the right to talk. I have the right to go to market. I have the right to speak up."
The media attention drew the ire of the Taliban, which says it was behind Malala's shooting in October. She was riding home in a van with some of her schoolmates when masked men stopped the vehicle and demanded to know which one of them was Malala. When Malala was identified, the men opened fire on her and two other girls, both of whom also survived their injuries.
"We do not tolerate people like Malala speaking against us," a Taliban spokesman said after the shooting.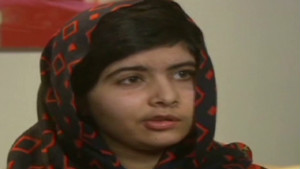 Malala: 'God has given me this new life'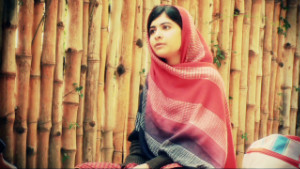 The schoolgirl who took on the Taliban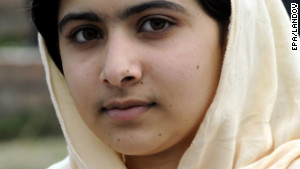 Malala thanks supporters
Malala was critically injured in the attack, but she suffered no permanent brain injuries. She underwent several successful surgeries in Pakistan and the United Kingdom, where she now lives after her father was given a job with the Pakistani Consulate.
In March, she went back to school for the first time since the attack, attending an all-girls high school in Birmingham, England.
And while she recovers from her injuries, she is continuing to raise awareness and money for education. Last month, she announced a $45,000 grant to a fund that was set up in her name -- and the first to benefit will be girls from the Swat Valley.
"We are going to educate 40 girls, and I invite all of you to support the Malala Fund," Malala said in a video that was played at the Women in the World summit in New York. "Let us turn the education of 40 girls into 40 million girls."
Jolie, a U.N. special envoy, will be donating $200,000 to the Malala Fund, according to Women in the World. The fund was set up by the Vital Voices Global Partnership, a nongovernmental organization founded in 1997 by Hillary Clinton.
"In parts of the Indian subcontinent, Afghanistan and Africa, intimidation and violence are the daily reality of life for many girls who want to go to school and the many educators who want to teach them," Brown wrote in a recent op-ed for CNN.com. "Even today, five months after Malala's shooting in the Swat Valley, her school friends remain in fear of violence simply for attempting to return to school."
On July 12, her 16th birthday, Malala will speak to the United Nations about the issue.
Since her shooting, she has become the face of girls' education, a global symbol. She has been nominated for the Nobel Peace Prize, and last year she was selected as a runner-up for Time magazine's Person of the Year.
"She is the daughter of the whole world," her father told CNN. "The world owns her."
CNN's Ashley Fantz, Jason Hanna, Shaan Khan and Laura Smith-Spark contributed to this report.